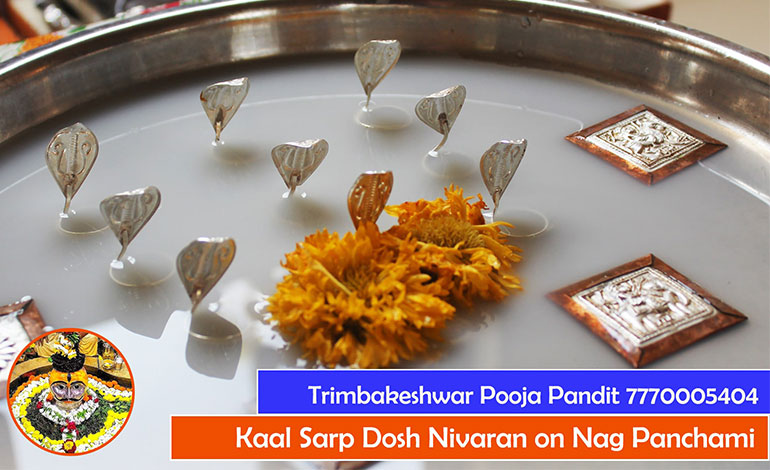 Kaal Sarp Dosh Nivaran on Nag Panchami : Sun, Moon, Mars, Mercury, Jupiter, Venus, and Saturn are the seven planets trapped between Rahu and Ketu. This forms the Kaal Sarp Yog . The Rahu Ketu axis contains these planets.
Approximately a hundred years ago, some astrologers mapped out this yog and assigned it a special place. Those who practise this yog will face obstacles in their lives warned by astrologers. There is a growing willingness on the part of individuals to spend money to protect themselves from the adverse effects of the planets. Similarly, you don't always have to suffer the consequences of Rahu and Ketu's Kala Sarpa dosha just because Saturn is always adverse. Kaal Sarp Yog can also be beneficial.
नाग पंचमी पर काल सर्प दोष निवारण हिंदी में पढ़ने के लिए यहां क्लिक करें।
Kaal Sarp dosh nivaran nag Panchami removes the fear of Kaal Sarp Dosh effects in your Kundli if you're afraid of them. Many of these people have achieved great success in real life due to yog. Many people have achieved success despite the effects of Kaal Sarp Yog.
As per astrology, Rahu and Ketu are shadow planets associated with the houses. All the other planets are also able to cause the Kaal Sarp Yog effect between Rahu and Ketu.
Contact Acharya Shivang Guruji Trimbakeshwar at +91 7770005404
How Kaal Sarp Puja Performed?
Yantra has energised through mantras from the Vedas so that it helps the person connect with the higher power. Priests undertake this process of energising the yantra. The method of placing this energized yantra in homes is essential and appropriate.
First of all, before placing the yantra, it is essential to clean the body and for the mind to be free of all damaging elements.
Secondly, it is necessary to locate a quiet floor space facing east.
Lighting a lamp or burning incense will be helpful.
On the altar, arrange fresh fruit and flowers.
An image of the god that the yantra symbolizes should position it in front of the yantra.
To finish, sprinkle some water on yourself and the altar by using any leaf from any tree.
Close your eyes for a moment and pray to the higher power that your every wish granted.
What is the Importance of Best Mahurat for Kalsarp Puja?
During Amavasya, this Pooja is beneficial in many ways. Additionally, it can happen during a Lunar or Solar Eclipse. Pooja is performed on Naga Panchami, Sundays and Tuesdays. Perform the Pooja twice a year or on Kaal Sarp dosh puja on nag Panchami for optimal results.
You can perform a Kaal Sarp Dosh puja during the Uttarayanam period from 15th January to 15th July. Dakshinayanam is from 15th July – 15th January.
Why to perform Kaal Sarp Dosh Nivaran Puja on Nag Panchami?
Panchami and Friday are the Udaya Tithis of Shravan Shukla Paksha. An official law celebrates Nag Panchami every year on the fifth day of Shravan Shukla Paksha. Nag Panchami falls in Shravan in the month of Bhadrapada. So Friday is Nagpanchami. Nag Panchami is a day for worshipping snakes. Nag Panchami cures the fear of snakebites and Kaal Sarp Dosha, the pain of Rahu in the body.
According to Hindu tradition, Kaal Sarp Dosha Nivaran Puja is performed on Nag Panchami. Some days, Kaal Sarp puja on nag Panchami muhurats are considered shubh. They also believe that those performing Kaal Sarp dosh nivaran on nag panchami at the Trimbakeshwar temple in Nashik have better results.
Who is the best pandit to perform Kaal Sarp Puja on Nag Panchami?
Guruji Shivang and his family live in Trimbakeshwar, a Shiv mandir. Being an expert in Kaal Sarp Puja, Guruji possesses the expertise required to conduct Kaalsarp Puja since Guruji has performed more than 15000 Kaal Sarp Shanti Pujas until now, clients (Yajmans) receive excellent results instantly after doing Shanti or Pooja Vidhi. Trimbakeshwar is one of India's most significant holy places due to the Jyotirlinga, with three faces representing Lord Brahma, Lord Vishnu, and Lord Rudra.
Book Kaal Sarp Puja in Trimbakeshwar Nashik +91 7770005404
Information about Trimbakeshwar Temple
Located at the source of the longest river in peninsular India, the Godavari, the ancient town of Trimbakeshwar, was the centre of pilgrimage for Hindus. The temple contains a Jyotirlinga that bears the three faces of the Trinity, Lord Brahma, Lord Vishnu, and Lord Shiva.
Peshwa Balaji Bajirao(III) (1740-1760) built the Trimbakeshwar temple. The temple has four entrances: east, west, south, and north. According to spiritual beliefs, the east represents the beginning, the west represents maturation, the south represents completion, and the north represents revelation.
The Trimbakeshwar Temple is near Brahmagiri mountain, where the river Godavari flows (28 km from Nashik, Maharashtra) and built by Peshwa Balaji Bajirao III. Brahmagiri hill rises 3000 feet above sea level from Trimbakeshwar, which is at its foot.