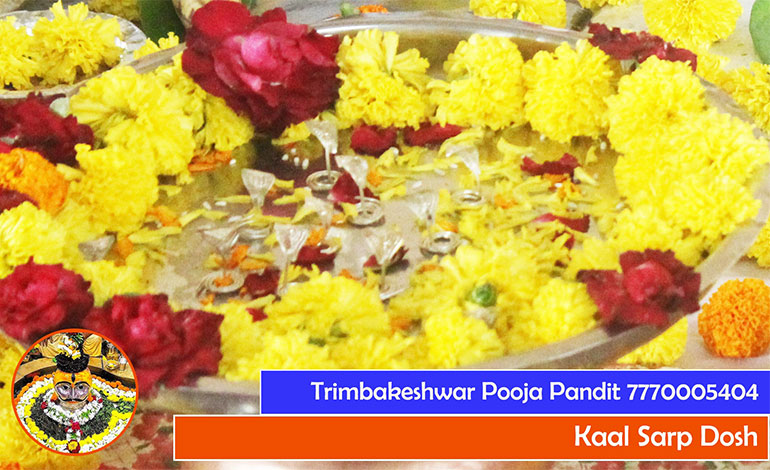 Kaal Sarp Dosh is a deadly name in the astronomical world that has terrified almost everyone. People leave nothing to remove this deadly Dosha. Kaal Sarp Yoga has a very negative effect on our health.
These negative planetary conditions make life miserable, discriminatory, unhappy, unstable, shameful, and impoverished.
अंग्रेजी में काल सर्प दोष पढ़ें। यहाँ क्लिक करें।
Now, we're going to talk about everything about this infamous Dosh that has ruined your marital life, love, and romance, work, and wealth to a great extent. And you have been moving the pillar to send it on to lead your life in vain. We will also discuss the remedies for Rahu and Ketu's negative influence.
Contact Trimbakeshwar Pandit Shivang Guruji at +91 7770005404
The typical influence of Kaal Sarp Yoga
Kaal Sarp yoga is certainly a dangerous Dosha that can be very harmful. Different people will have different knowledge about the conditions of other planets. However, you may have the following problem in your life if you are under the influence of this notorious Yoga.
Your work will be delay and you will have a habit of procrastination
Very low level of peace of mind
Loss of confidence and development of inferiority complex
Chronic health problems
Barriers to work, profession, work or business
Unwanted troubles and worries
An unhappy married life
Secret enemies, looting, and tricks
Lack of collaboration from family and friends
What is Kaal Sarp Dosh
You have heard of Kaal Sarp Yoga and you may have experienced a negative impact on it. However, you do not know what Kaal Sarp Dosha is and how it happened. This filthy Dosha was not mention in any of the ancient astrological books such as Brihat Parashar Hora Shastra, Phaaldeepika, Sarvarth Chintamani, and Brihat Jataka, etc.
When a person has Kaal Sarp Yog in his Kundali, then he often dreams of snakes. They see themselves being bitten by these reptiles and feel as if someone is trying to choke them. They also see their dead relatives or bodies often in their dream.
Some Most dangerous Kaal Sarp Dosha
Takshak Kaal Sarp Dosh
Where Rahu is locat in the 7th house and Ketu is in Lagna, then the erected yoga is identified as Takshak Kaal Sarp Dosh. People with Down syndrome often experience delays in marriage. Even if they are married they should see the suffering of the family because of the in-laws and their spouse. Sometimes, because of such circumstances, separation also occurs.
Mahapadma Kaal Sarp Dosh
When Rahu was place in the 6th house and Katu was placed in the 12th house and all the other planets existed between the two, the established yoga became known as Mahapadma Kaal Sarp Dosha. In this dosha, a native defeats all his enemies easily. A native uses his intelligence and surpasses his enemies. But the problem with this Dosha is that the peace of the traditional house is disappearing.
Vishdhar Kaal Sarp Dosh
If in any horoscope, Ketu is in the 5th house and Rahu is in the 11th house, and all the other houses among them, Kaalsarp Yog is called Vishdhar Kaalsarp Dosha. A person born under yoga faces many challenges in obtaining higher education. The natives suffered great losses even after gaining benefits from ancestral property.
Ghatak Kaal Sarp Dosh
Uncertainty Ketu is locate in the 4th house and Rahu is located in the tenth house in the human horoscope, then the fix yoga is known as Ghatak Kaal Sarp Dosh. A person born under this yoga must serve his mother faithfully. If a person does this, he will have a wonderful home environment and happiness will always reign in his house. A person born under this yoga becomes tall.
Kulik Kaalsarp Dosh
If Rahu is in the 2nd house and Ketu is in the 8th house and all the planets exist between the two, then dosha is call Kulik Kaalsarp Dosha. A person under the influence of these two houses will inevitably remain a failure and learn to handle big swearing. The education of the person under this Yoga will run at a steady pace and his marital life will also remain normal. But the financial loss, deception, obstacles to happiness, humiliation become the norm.
Anant Kaalsarp Dosha
If in any horoscope, Rahu is in Lagna or ascendant and Ketu is in the 7th house, and all the other houses among them, then Kaalsarp Yog is call Anant Kaalsarp Dosha. The people under this Dosha have to work really hard to be successful in their lives. The obstacles and challenges along the way are many and the struggles are long-lasting. As a result of this dosha, a person faces problems in all aspects of his life.
Shankhachur Kaal Sarp Dosh
When Ketu is locate in the 6th house and Rahu is in the 12th house, through all the planets in amid, then yoga is identify as Shankhachur Kaal Sarp Dosh. There is always a delay in fulfilling the desires and aspirations of the people born into this yoga.
Book Kaal Sarp Dosh Nivaran Puja by Pandit Shivang Guruji at +91 7770005404
Kaal Sarp Dosh Upay
In addition, this Dosha can also destroy the positive effects of positive planets. There are a few remedies and solutions one has to follow to reduce the negative impact of Kaal Sarp Dosh in the right way. The following are the Kaal Sarp Dosh Upay:
Offer Prayers to the Snake Gods: Indigenous people should pray to Nagaraja and all other Snake Gods every Sunday and Panchmi Tithi.
Visit Pilgrimage: One should visit these tourist destinations that are consider important to the indigenous people with Kaal Sarp Dosha. For example, taking a sacred dip at the Rameshwaram Temple in Tamil Nadu and performing ancestral prayers can eliminate the Pitra Shrap, if that is the reason for Kaal Sarp Dosh. Also, going to temples like Mahakaleshwar in Ujjain, Kalahasti in Andhra Pradesh, Trimbakeshwar in Nashik (Maharashtra), etc., and performing the puja of Lord Shiva there can alleviate the negative effect of this Dosha on a large scale.
Chant Maha Mrityunjaya Mantra: Singing the Maha Mrityunjaya Mantra at least 108 times a day can reduce the side effects of this Dosha.
Lord Shiva Worship: People should perform Shiva Puja at the temple with offerings of milk, flowers, Bilva Patra, fruits, and plums every Monday. After this, one should give food to the poor and needy. Performing Lord Shiva's Puja on Maha Shivratri can produce superior results.
Chant Gayatri Mantra: Indigenous people should sing Gayatri Mantra 21 times or 108 times a day. You should get up in the morning, wash and sing this Mantra facing the sun. It is believed that those who sing Gayatri Mantra religiously will be protect from all troubles in life.
Worship Nataraja: Worship King Nataraja, Lord Shiva's dance avatar, and perform Shanti Puja on Sashti Tithi.
Soon to Nag Panchmi
See solid fasting in Nag Panchami.
Contact Pandit Shivang Guruji
Shivang Guruji is one of the famed pandits in trimbakeshwar, an old-style Nashik for pitra dosh and Kal Sarp pooja. You have 16+ years of experience and made 12000+ kalsarp puja and 8000+ pitra Shanti puja. He is a well-known pandit with results. Most Yajmans from all over the world have found good results with herbs given to pandit Shivang Shastri. You can call the guruji to check out your kundali for free.
It is important to check the kundali to find the correct dosh in the kundali and to propose herbs accordingly. Panditji will organize all the puja samugri, it can help you book your stay and food. In an emergency, they can help you by taking you from the train station to Trimbakeshwar Temple. Trimbakeshwar is a place where Kal Sarp puja is practice all over the world. The Kal Sarp pooja in Trimbakeshwar will be made by panditji as each shastra and everything arrange in puja will be like ancient books.