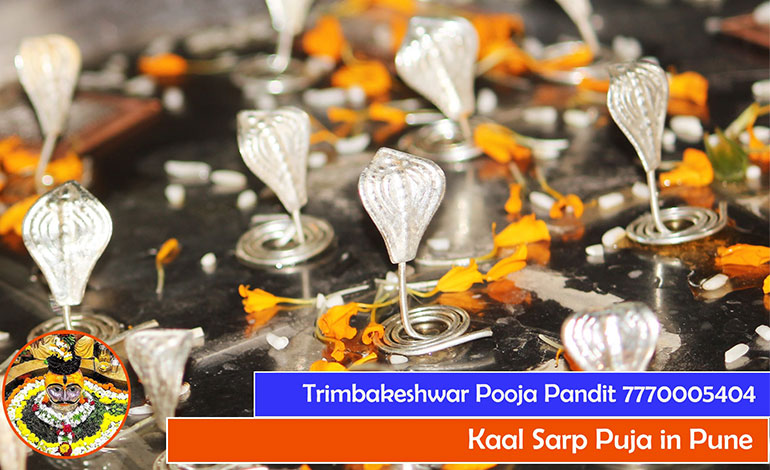 Kaal Sarp Puja in Pune – Kal Sarp dosh occurs when a malefic astrological combination of planets occurs in a person's birth chart that causes harm. The Kaal Sarp dosh can be diagnosed in a person's horoscope if all seven planets place between Rahu and Ketu in the birth chart. The Kundali is said to have Kalsarpa 78 when all the prime planets (Sun, Mercury, Venus, Mars, Jupiter, Saturn, Moon) locate between Rahu & Ketu.
पुणे में कालसर्प पूजा हिंदी में पढ़ने के लिए यहां क्लिक करें।
A dreaded yog can lead to misery in a person's life, and afflicted by it suffers misfortune and pain in his life. Kaal Sarp Yog can cancel out all the good yogas on the chart. In anybody's horoscope, such as kings, royalty, prime ministers, peons, and the poor. Those who have KalSarp Yog in their horoscopes always suffer from tension, fear, and insecurity, even if they have all kinds of facilities. Those who have KalSarp Yog in their horoscopes always suffer from tension, fear, and insecurity, even if they have all kinds of facilities.
Contact Trimbakeshwar Pandit Shivang Guruji at +91 7770005404
This yoga has a much worse effect on a person than other detrimental forms of yoga, and it can affect him until he is 55 years old and sometimes all over his life, depending on where the yog occurs. There are twelve types of this yog:- Anant Kalsarp yog, Kulik Kalsarp yog, Vasuki Kalsarp yog, Takshak Kalsarp yog, Karkotak Kalsarp yog, Shankhnaad Kalsarp yog, Patak Kalsarp yog, Vishadhar Kalsarp yog, Shankpal Kalsarp yog, Padam Kalsarp yog, Mahapadam Kalsarp yog, Sheshnag Kalsarp yog. There are various types of Kalsarp Yog, and let's discuss a few about Kalsarp Pooja Trimbakeshwar Pune.
Shankachood Kalsarp Yog
Rahu is in transit in the ninth house, and in the third house, Ketu is in transit. People with this yog in their charts are likely to have many ups and downs. They tell lies and seem to favour antireligious activities such as anxiety and be short-tempered.
Ghatak Kalsarp Yog
The Rahu Ketu Yog arises when Rahu is in the tenth house and Ketu is in the fourth house. Dissolute conduct can result in litigation and legal punishment if the yog is functioning positively.
Vishdhar Kalsarp Yog
Rahu enters the eleventh house and Ketu the fifth house, then the Vishdhar Kalsarp Yog prevails. Often, people are unstable and travel a lot. They are enslaved or have difficulty with their brothers, and later half of their lives are filled with peace.
Sheshnag Kalsarp Yog
The person has litigation, defeat, and misfortune problems when Rahu occupies the twelfth house and Ketu sixth house. As a result, enmity increases, and health problems mainly affect sensory organs.
Book Kalsarp Pooja in Pune by Pandit Shivang Guruji at +91 7770005404
Kaal sarp dosh puja in Pune
In Trimbak, Nashik district Maharashtra, there is a small temple in honor of Trimbakeshwar, one of the twelve Jyotirlingas. Trimbakeshwar Jyotirlinga is located at the Godavari River. It creates from Brahma, Vishnu, and Shiva; it is considered more holy than others.
Kaal Sarp Puja did not perform in Pune. It gets performed in Trimbakeshwar temple is most appropriate. Although the Puja has unique benefits in Trimbakeshwar, performing the Puja on auspicious days or during auspicious times has different implications. Based on his horoscope, the native selects a muhurta for worship. One should consult a renowned pandit to find out the type of dosha present in their horoscope and their date and muhurat for Puja.
From Pune To Trimbakeshwar
You can take your family or friends to some beautiful places in India. One of them is Trimbakeshwar. A Pune to Trimbakeshwar cab for kalsarp pooja trimbakeshwar Pune will allow you to visit the city's various tourist attractions. The native wants to choose the most suitable place to perform the Kaal Sarp dosha when he performs it. Anyone can reach Pune by train, bus, taxi, car, or aeroplane from Trimbakeshwar Shiva Temple. From Pune to Trimbakeshwar distance is 234 kms.
By Train:
It would be best if you took the train from Pune Jn. And at Kalyan Jn change it. Then from Kalyan to Kasra, there is a direct line. It takes hardly 1 hour 15 minutes to reach Kasra station. You take a taxi from Kasra to Trimbakeshwar Shiva Temple.
By Air:
Take the bus from Pune station to reach Burma Shell. The Pune Internation Airport(PNQ) is 670 meters far from Burma Shell. Take a flight from Pune Internation Airport(PNQ) to Nasik(NSK). Taxis are available at Nasik to reach Trimbakeshwar Shiva Temple.
By Road:
A cab is a convenient option for Kaal Sarp dosh puja Pune because Trimbakeshwar has road connectivity to Pune. Trimbakeshwar is also accessible from Pune to Nasik by state-run and private luxury buses. At Nasik, the cabs are available at a frequent time.
Most Trusted Pandit in Trimbakeshwar
He still needs someone to discuss how the Puja conduct, what the muhurta is and the plan. During the trip to Trimbak, the native will need to book hotels, tickets, and local transportation. People also need to know what to bring for Puja and what precautions they must take when visiting a temple. A person who performs Puja at the temple will receive the best possible outcome.
A genuine pandit in Trimbakeshwar can help you with all of these things. Instead of visiting one of the many "experts," you should only seek the help of a renowned and highly experienced pandit. The Trimbakeshwar community recommends Pandit Shivang Guruji as an educated and respected resident. Kalsarp puja Pune; people from Pune have to book Puja in advance.