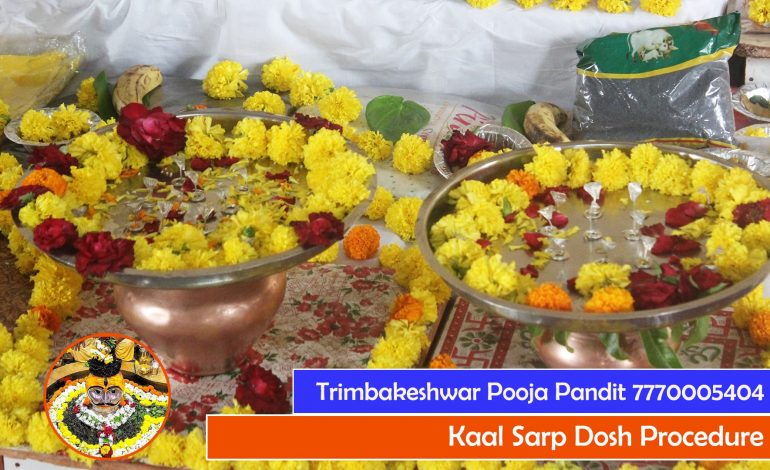 What is Kaal Sarp Dosh?
Kaal Sarp Dosh Procedure : Sarpa and Kal are combined to make the Kal Sarp Dosh. People born under Kal Sarpa Yog experience many problems and sufferings. All seven planets meet with Rahu and Ketu when Kaal Sarp Dosh occurs. It happens due to many evil karmas committed by a specific individual in their previous lives. It is seen as a mystical circumstance that negatively affects people with diverse problems. Kaal Sarp Dosh has an estimated influence of 47 years for a person, sometimes even longer depending on the placement of a person's planets. As a result of Kal Sarp Dosh, you may experience short-term effects. Few of the 288 types are Kal Sarpa Dosh, Ekdant, and Karkotak Kal Sarp Dosh. Each affects the body differently.
काल सर्प पूजा की प्रक्रिया हिंदी में पढ़ने के लिए यहाँ क्लिक करे
How is the Kaal Sarp Dosh procedure different from other Hindu practices?
Yet, nobody has the right to assume that with Kaal Sarp Yog in their Kundli, they will be miserable or that only horrible things will happen to them. Each person's Kundli includes different yogas vulnerable to the yogas present in it. Kaal Sarp Yog is less robust if in a person's Kundli are powerful Raj Yogas, four planets digbali, 2-3 worlds develop or Swagrehi in the Kundli along with Kaal Sarp Yog.
Contact Acharya Shivang Guruji Trimbakeshwar at +91 7770005404
What it costs to perform Kaal Sarp Dosh Procedure
According to the places where people choose to perform Trimbakeshwar pooja, the charges are different.
Trimbakeshwar Kal Sarp puja would cost Rs 1100 for a group outside the temple.
There was a cost of Rs 1500 / – INR for the Kaal sarp puja in the AC hall.
Trimbakeshwar Kal Sarp Puja is priced at 2100 / – INR for performances inside the temple.
Performing the kalsarpa Shanti puja inside the temple cost 2500 rupees. Pooja tickets are available in two different types.
A Kaal Sarp Yog Puja results in Rahu Ketu Jaap for Rs 5100 /- INR in the temple premises. During this puja, a powerful force called Kaal sarp dosh is invoked.
It is not too expensive to perform the trimbakeshwar Kal sarp puja procedure. It is affordable for everyone. Both middle-class and high-class people can afford to go there. The cost of trimbakeshwar pooja includes lunch.
Kaal Sarp Dosh remedies
A necessary Kal Sarp yoga remedy is Chanting Gayatri Mantra. Chant this Mantra facing the sun when you first wake up after taking a bath. Either 108 or 21 repetitions of the Gayatri Mantra should be chanted a day. A true chanter will be rid of all life's troubles.
Worship Nataraja, the dancing avatar of Shiva. The Sashti Tithi Puja is an effective remedy for Maha Padma Kala Sarp Dosha.
The correct fast on Nag Panchami is a remedy for Rahu and Ketu, an integral part of the fasting method.
Be careful not to hurt snakes or other reptiles. Chant the nine snake names 21 times every Sashti tithi.
Nivaran Puja for Kaal Sarp Dosh: The Kaal Sarp Dosh Nivaran Puja is one of the most effective remedies for Vishdhar Kaal Sarp Dosh. The effect of this Dosha can be removed. Expert priests perform this ritual in the temples of Lord Shiva, especially in Kalahasti and Trimbakeshwar temples. This Puja can help you tremendously.
Kal Sarp Nivaran Puja Trimbakeshwar
Trimbakeshwar temple houses one of the twelve Jyotirlingas. Its three faces, personifying Brahma, Vishnu, and Rudra, are a striking characteristic of the Jyotirlinga reveals m here.
One day is required for kaal sarp puja procedure in Trimbakeshwar. There will be the following pujas performed: Ganpati puja, Punayahavachan, Matruka puja, Naandi shradha, Navragha puja, Rudharakalash puja, and finally Balipradan and Puranahuti. Performing this pooja requires six hours.
Book Kaal Sarp Puja in Trimbakeshwar Nashik +91 7770005404
Calculator for Kaal Sarp Dosh
Despite the adverse effects of kaal sarp puja procedure on a person, there is another aspect to this yoga. This yoga can consider to be advantageous. It will be beneficial if similar adjustments are there to Kendra and trikonas. They may eventually recover. Even though they may hurt at first or at an early stage of your life, they will ultimately benefit you in the long run.
Therefore, you should be optimistic. Kala Sarpa puja pricedure might take them to the heights of success and succeed if they show their talents.
Kalsarp Dosh Chart
Slavery is the overpowering imposition of Maya upon the natives. Thus, the native averts from the truth of the chart. Specifically, it involves a person's schedule that differs from the chart's indicated one. As the light of the Sun eliminates darkness, so does truth eliminate lies. Kaal Sarpa/amarta yoga can break. The houses of fact represent entry into and exit from this world, respectively. There are planets in the first or seventh node from the following node. For instance, It would be the first or seventh node from the Lagna. The truth would then be arranged, and the yog breakes.