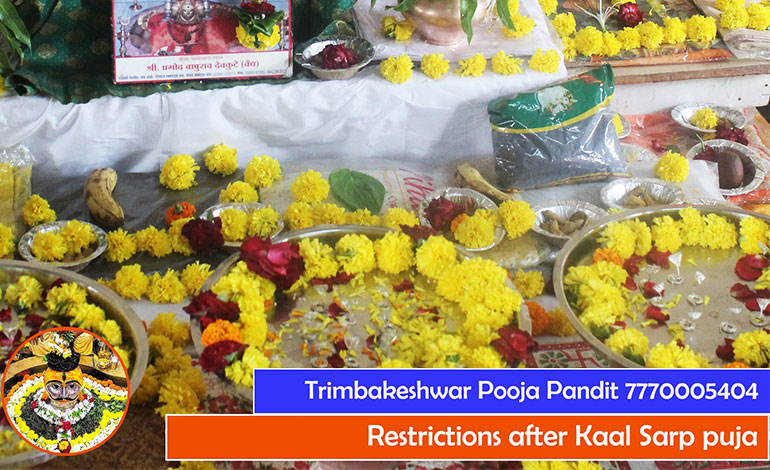 Restrictions after Kaal Sarp puja – Kaal Sarp Yog is like a dosha in your kundalini (birth horoscope). According to astrology, Kaal Sarp Yog is usually a consequence of past acts or karma. If a person has injured a living being/snake in the current or earlier life, it may happen. This yog (not to be misunderstood with yoga asanas) may also occur if the dead ancestors are dissatisfied. When a person has the Kaal Sarp Yog in his Kundali, then he or she often dreams about snakes. They see themselves getting bitten by these reptiles and feel that someone is trying to strangulate them. They also frequently see their deceased relatives or corpses in their dream.
काल सर्प पूजा के बाद प्रतिबंध अंग्रेजी में पढ़ें। यहाँ क्लिक करें।
Kaal Sarp Dosh Best Days
Executing this Pooja on Amavasya Days, During Solar and Lunar Eclipse times, Naga Panchami, Sunday and Tuesday are preferable days.
For good results, one should perform this Kaal Sarp Dosh Nivarana PoojaFor good results, one should perform this Kaal Sarp Dosh Nivarana Pooja twice a year. The first is in Dakshinayanam period, which is from 15th Jul to 15th Jan and One more time during Uttarayanam period, i.e. from 15th Jan to 15th Jul.
Performing Rudrabhishekam after this pooja keeps the pooja procedure complete.
Contact Trimbakeshwar Pandit Shivang Guruji at +91 7770005404
Kaal Sarp Dosha Pooja Procedure
The time required for pooja is not take more than 40 mins which is followed by Darshan which takes another 20 – 25 mins. After this pooja, one should offer food to the poor in the streets. Pooja
Pooja samagri (materials) will be delivered by the temple management, no need to hold any pooja material from home. Ticket cost contains Pooja material as well.
Let us see some Dos and Dont's for Sarp Dosh pooja which every person has to observe before or after the pooja.
Dos for Sarp Dosh pooja
One should take a head bath before this pooja.
Females should perform this Pooja eight days before or after their menstruation cycle.
Check with an astrologer before planning for this pooja at the best time.
The person should do pooja on auspicious days only.
He/She performing pooja should abstain from eating non-vegetarian food of all kinds, including fish and egg.
One should stay away from liquors and all sorts of alcohol.
The person should also stay away from smoking for all this time.
The native should also not make sexual contact with any female, including his wife and vice versa.
In the case of bachelor natives, they should remain away from their girlfriends as prolonged as the Kaal Sarp Yog Nivaran Puja is running on.
The native should also not engage in immoral conduct of violence or hatred.
The native should connect himself to Kaal Sarp Dosh Nivaran Pooja daily.
Book Kaal Sarp Dosh Nivaran Puja by Pandit Shivang Guruji at +91 7770005404
Dont's for Kaal Sarp Dosha Pooja Or Restrictions after Kaal Sarp puja
One should not see friends, relatives' homes after this pooja.
One should not see any temple after this pooja.
Do not Namaskar in any Naga Devatha temple.
Not to perform this pooja in greasy hair.
Pregnant should not conduct or partake in any dosha nivarana poojas.
Do not organize any Pooja on fasting days. Like ekadasi, shivaratri, ashtami, gokulashtami, etc.
Do not do prostrate in any Naga Temple served
Therefore, no family member should be absent while doing pooja.
However, girls should not enter Naag temples if they have monthly dates.
How to do remedy Kaalsarp Yoga?
If you are feeling some disturbances in your life, then you have to do some remedies to get relief. The most critical remedy is "Kaal Sarp Yog Shanti Yagya anushtan" because this Yagya is the only method to connect with God. Kaal Sarp is a dosh in your horoscope, so removing your dosh Yagya is essential. Yagya is a swroop of lord shiva name as the lord of Yagya bhootnaath".
You do must regular chanting of Rahu mantra and Ketu mantra min 108 times every. These are mantra Rahu planet "OM RANG RAHVE NAMHA" AND the Ketu mantra is "OM KEANG KEATVE NAMHA"
Depending upon the position of Rahu-Ketu and the planets, the Kaal Sarp yog is good or bad. So if you have Kaal Sarp dosh then book your seat for Kalsarp Dosh Nivaran Puja and get rid of all problems. Therefore don't waste time thinking. Pick your phone and call Shivang Guruji on +91 7770005404 to get your pooja complete asap. Also, just kee the above do's and dont's which you will need to take care of after and before performing this Kalsarp Dosh Nivaran Puja.
All the best for your bright future!!!
Contact Shivang Guruji for Restrictions after Kaal Sarp puja at +91 7770005404