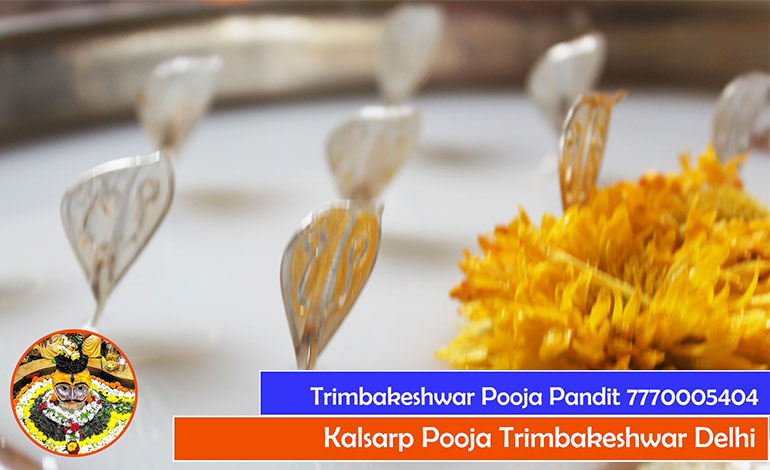 Kalsarp Pooja Trimbakeshwar Delhi: Kaal means time in Sanskrit, and we can safely assume that Sarp means snake or serpent. Among its many meanings, Kaal Sarp Dosha implies danger, mainly when applied to human life. If Kaal Sarpa Dosha does not cure, then the effect on property, finances, and health, making even the simplest works inauspicious.
Unless you practice Kaal Sarp Yog, it is impossible to counter these harmful effects that can ruin your entire life. Kaal Sarp Yog's benefits could know through experience.
कालसर्प पूजा त्र्यंबकेश्वर दिल्ली हिंदी में पढ़ें। यहाँ क्लिक करें।
The Kaal Sarp Yog effects include refraining from outside foods for a year avoiding alcohol and consuming non-vegetarian food. Trimbakeshwar achieves this by chanting the Maha Mrutyunjay mantra and visiting the temple of Lord Shiva every Monday.
Unsurprisingly, performing specific pranayama exercises comes under the Kaal Sarp Yog benefits section due to the benefits of yog.
Are you familiar with Kaal Sarp Yog? You can be optimistic about the Kaal Sarp Yog effects once you have performed the pranayam, and you will be able to see the positive results in your body. Many of you have probably heard that Kaal Sarp Yog is the most effective remedy against all evil.
Contact Trimbakeshwar Pandit Shivang Guruji at +91 7770005404
Types of Kaal Sarp Puja
Anant Kaal Sarp Yog
The yog arises when Rahu is in the first house and Ketu in the seventh house with the rest of the planets placed on this axis. The axis refer to Vipareeta Kalsarpyog. Although this yog can lead to additional financial gains, it is detrimental to a marriage. With this yog, a person married late in life and suffered from anxiety and inferiority complex.
Kulik Kalsarp Yog
Kulik Kalsarp Yog arises when Rahu occupies the second house, and Ketu occupies the eighth house. This combination is unfavorable to health. Individuals with this combination are at a higher risk of financial loss and accidents, negatively affecting their financial standing and reputation.
Vasuki Kalsarp Yog
The person becomes affected by problems related to job or business, blood pressure, sudden death or losses incurred by relatives when Rahu occupies the third house and Ketu occupies the ninth house, and the rest of the planets are opposite to the Rahu Ketu axis.
Shankpal Kalsarp Yog
Usually, this yog occurs when Rahu enters the 4th house and Ketu enters the 10th house. People with this yog have problems with their work and have difficulties managing their time. Sometimes the afflicted person has an illegitimate child or is an illegitimate child. However, this yog can also impart high political success and associated gains.
Takshak Kalsarp Yog
Rahu is in the seventh house, and Ketu is in the first house when this yog formed. The person has speculative tendencies and can lose money by spending on alcohol, women and gambling. In the life of a person, there is marital discord.
Karkotak Kalsarp Yog
This yog formed when Rahu occupied the eighth house, and Ketu occupied the second house. Such a person has a short temper and is prone to enemies. Such a person has an affinity for antisocial elements, losing ancestral wealth. Additionally, sexually transmitted diseases are more prevalent.
There are many variations of Kalsarp-yog that affect a person's life in many ways.
Book Kalsarp Pooja Trimbakeshwar Delhi by Pandit Shivang Guruji at +91 7770005404
Town: Trimbakeshwar, Kalsarp Pooja Trimbakeshwar Delhi
This belief is based on many reasons that make Trimbakeshwar the most sacred town in India. Lord Ganesha was born in the town because the Godavari originated from the Brahmagiri Hills.
There is a myth behind the temple in which Peshwa Nanasaheb bet on whether the stone surrounding Jyotirlinga was hollow inside or not. Based on this, he built a magnificent temple. The temple houses a world-renowned diamond called Nassak Diamond, or Eye of the Idol.
An Ideal Way to Travel for Kalsarp Pooja Trimbakeshwar Delhi
Trains departing from Nizamuddin station at 17h 18m give the quickest and easiest way to reach Trimbakeshwar Shiva Temple for kalsarp puja in Delhi. Generally, Trimbakeshwar Temple opens at 5:30 AM and closes at 9 PM. Visitors may be allowed to have a general look at the temple from a distance of about five meters. However, only those intending to perform special Poojas may enter the main sanctuary and touch the Linga. Mangal Aarti is performed from 5:30 AM to 6 AM, and Pooja is performed in Trimbakeshwar for Kaal Sarp dosh puja Delhi.
By Air:
There are direct flights from Delhi (DEL) to Nasik (ISK) airport. At Nasik, the cabs are available frequently to Trimbakeshwar Shiva temple.
By Train:
Trains are available from the New Delhi railway station to Nasik Road. There are taxis available at Nasik to reach Trimbakeshwar Shiva temple.
By Road:
You can choose cabs or state-run and private luxury buses from Delhi to Trimbakeshwar Shiva Temple.
About Pandit Shivang Guruji
Pandit Shivang Guruji is recognized and reputed as the premier pandit for Kaal Sarp puja in Trimbakeshwar. The pandit has been offering Kaal Sarp puja for years. Guruji can arrange all the pujas, clothes, silver snake murti, flowers, pick-up, and drop-off from the station for Kaal Sarp Puja in Trimbakeshwar Temple.
He can also book a hotel room or a ticket, and he can recommend the most appropriate remedy based on your horoscope's dosha. The renowned Pandit, Shivang Guruji, lives in Trimbakeshwar. He brings many years of devoted experience to every Hindu worship service, and he conducts Kalasarpa Dosha Nivaran Puja, Tripindi Shraddh, and many others. He performs Kaal Sarp dosh puja in Delhi people in Trimbakeshwar.